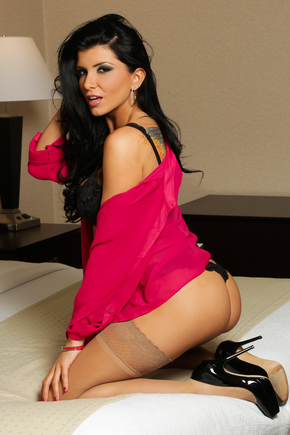 Superstar Talks Anal Prep in WoodRocket Feature & More!
VENICE, CA – Adult entertainment pioneers WoodRocket have produced a new episode of Good Porning America with a fun Romi Rain interview that covers things that are better than sex and what to eat before an anal scene – interesting and important insight from one of the adult industry's smartest leading stars.
"Coffee and lube are probably the numbers one and two things on a set," Romi explained. "Unless it's anal, then you can't have coffee during anal, so it's gummy bears."
The enchanting starlet was quick to clarify her position to Woodrocket on the chewy gelatin treat's role in capturing the perfect anal sex scene on camera, a little known industry secret!
"You won't poop on a penis if you eat something like gummy bears," she continued to Matt Lieb. "If you want to do some really good anal you can't eat too much, but you can have some gummy bears to keep your energy up. Gummy bears anal food. Now you know!"
Gorgeous adult star Romi Rain continues to turn out hot scenes that leave fans breathless, drained, and above all else begging for more! This week fans can enjoy Romi taking over control over Tyler Nixon for Tonight's Girlfriend in a steamy bondage-and-discipline flavored scene that pushes the limits. Check out all the fun by visiting http://www.tonightsgirlfriend.com/scenes/romi_rain-21527. There is also another Brazzers scene this week from their incredible new Ghostbusters XXX Parody. Fans can see the thrilling conclusion by visiting www.brazzers.com/series/13/ghostbusters-xxx-parody/! Romi also stars in The Madam (Wicked Pictures), the new movie from director Stormy Daniels out this week. The trailer can be viewed at http://www.wickedb2b.com/movies/the-madam.
But that's not all that's happening in her world. The in-demand entertainer will be back on the road next month with a three-night engagement at Déjà Vu in Tampa Aug. 18-20.
Check out Good Porning America with Romi at http://woodrocket.com/videos/good-porning-america-romi-rain-loves-netflix-and-scalp-massages.
Fans can also vote for Romi in the 2016 Inked Awards where she is nominated for Best Oral. Vote daily at http://inkedawards.net/categories/best-oral/. She is also nominated for Inked Female Performer of the Year and Inked Group Scene of the Year (for Brazzers' Deadly Rain).
Find more Romi at her Clips 4 Sale at http://clips4sale.com/studio/96013/The-Official-CFS-of-Romi-Rain#startingpoint. Connect with her on Dream Lover at http://www.dreamlover.com/RomiRain. Check out her YouTube channel at www.YouTube.com/RomiRain.
Follow Romi on Twitter (@Romi_Rain), Instagram (romirain), Tumblr (http://romirain.tumblr.com). She can be booked through www.OCModeling.com. For everything Romi go to http://risingstarpr.com/clients/romi-rain/.