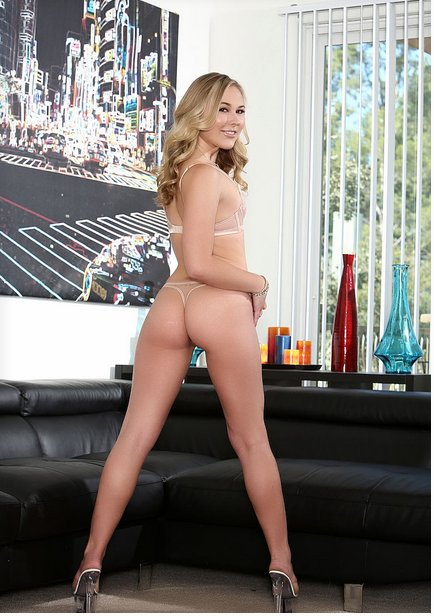 Sexy 18-Year-Old Tells Captain Jack She's Ready for A-N-Y-T-H-I-N-G!
VENICE, CA – For many 18-year-old all American girls 2016 is exciting because it's their first opportunity to vote for president. Alyssa Cole, on the other hand, was excited for a very different reason. That's because her legal entrance into adulthood meant she was finally able to fulfill her dream and start shooting porn.
There's a reason Alyssa looks like the girl you wished lived next door. That's because she comes from one of the West's most conservative towns, Colorado Springs. Still that didn't mean she was sexually repressed. On the contrary, she was infamously horny, to the point of being insatiable, a trait she picked up from her mother the teen insists. As the fresh new starlet reveals to Captain Jack from Adult DVD Talk in her very first interview, her mom actually gives her advice now that Alyssa has gone pro.
"She made me think about it for a month before I actually went and did everything," Alyssa confides. "I told her that I was 100% certain that I wanted to do it. Now, she's really supportive and really into it. She tells me how to pose and how to stroke the cock. My mom told me about her gangbang with the football team and she was the head cheerleader. I got my whoreishness from my mom! It runs in the family."
Alyssa turned 18 in January and did her first scene four months later, for Bang Bus with a stud named Bruno. Since then she's wasted no time, already knocking off a series of "firsts" like her first time with a girl as well as her first anal. But according to the naughty newbie she's ready to keep breaking boundaries and testing the limits of her sexuality more – much more!
"I really like anal. And I really like DP," she tells Captain Jack. "The more dicks the better. I'm trying to get four dicks in my ass."
Check out Alyssa's ADT interview in full at http://interviews.adultdvdtalk.com/alyssa-cole/.
For those interested in hiring Alyssa, the in-demand starlet is in Los Angeles through Oct. 3 and can be booked by OC Modeling by visiting http://ocmodeling.com/model/alyssa-cole/.
Follow her on Twitter and Instagram (@alyssaxcole) and Snapchat (AlyssaColeXXX).
For media opportunities and interviews please contact Rising Star PR. For everything Alyssa Cole go to http://risingstarpr.com/clients/alyssa-cole/.