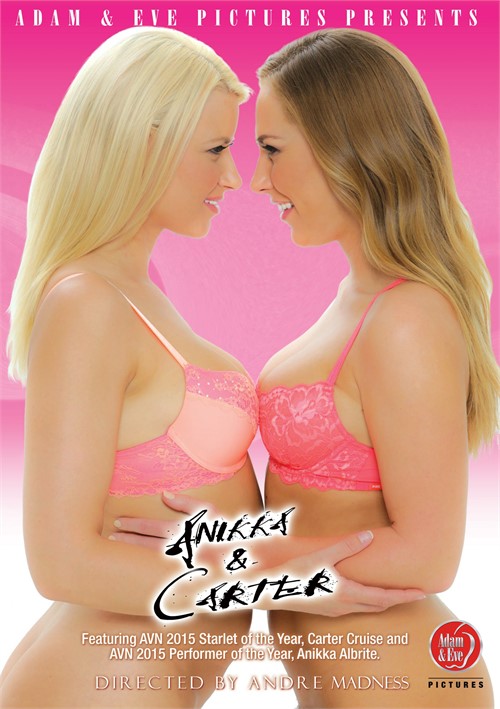 Superstar G/G Showcase Voted the Best by the Fans
VENICE, CA – Anikka Albrite needs to find space on her already-crowded trophy shelf for another great award. This time it's for Best All-Girl Release at the 2016 NightMoves Awards for Anikka and Carter (Adam & Eve Pictures).
The movie won the Fan Choice trophy at the 24th annual NightMoves Awards show last weekend.
Anikka and Carter was already one of the biggest girl/girl movies of the year, featuring both Anikka and Carter Cruise in three scenes each and twice together.
"Shooting Anikka and Carter was a blast," Anikka said. "I loved working with Carter and director Andre Madness did a great job. I'm so happy that the fans saw fit to give us this award!"
Scene breakdown for Anikka and Carter:
1: Anikka Albrite, Carter Cruise
2: Anikka Albrite, Carter Cruise, Kalina Ryu, Sasha Heart
3: A.J. Applegate, Mia Malkova
4: A.J. Applegate, Anikka Albrite
Writer Jarone Ashkenaz has a new story on Huffington Post titled "VR is the New Trend in Porn…So What Do Porn Stars Think?" and he spoke to Anikka, who starred in very first HoloFilm Virtual Reality Girl for HoloFilm Productions. Read all about Anikka's excitement at http://www.huffingtonpost.com/entry/57a366cde4b0f019c3e4eac8.
Check out the new Evil Angel collection of Anikka scenes, Anikka Albrite Is Evil, at www.evilangelvideo.com/video/5493/Anikka-Albrite-Is-Evil/. Also, for information about Anikka's Anal Sluts #2 at www.evilangelvideo.com/video/5489/anikka-s-anal-sluts-2/.
Check out her Fleshlight at www.fleshlight.com/fleshlight-girls/anikka-albrite/. Follow Anikka on Twitter (@AnikkaAlbrite). To book her contact Spiegler Girls at www.spieglergirls.com/html/anikka.html. For everything Anikka go to http://risingstarpr.com/clients/anikka-albrite/.