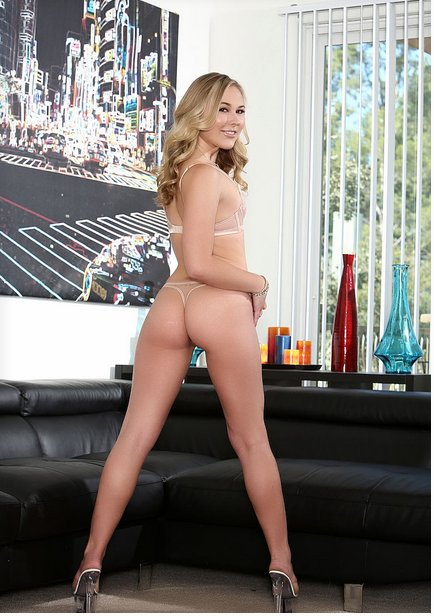 18 & Anal Porno Newbie Welcomes Danger's Entrance Into Her Backdoor
VENICE, CA – Fresh-faced 18-year-old Alyssa Cole is wasting no times in her quest for new experiences in the adult industry. A frisky girl long before she turned pro, she has notched up another on-camera first with an anal scene with Brick Danger for Holed.com.
"It's really, really good," she said. "That's because I like anal sex a lot more than vaginal sex. I mean, a LOT more. I really liked that one."
It was far from Alyssa's first try at back door action. She started down that highway three years ago because, as she says, "I wanted it in the butt!" In her personal life she says she recently managed a triple anal penetration in the bathroom at a party.
"I really like anal. And I really like DP. The more dicks the better. I'm trying to get four dicks in my ass," she explained to Captain Jack in her first interview. "I was at a party and there were three guys there that were really, really close. They were behind the bar serving drinks and I said, 'Hey, if I flash you, will you give me a free shot?' I kept going and going and I got even more drunk as the night went on. The more drunk I got, the more horny I got, so I asked them, 'Do you guys want to do something?' So I took all three of them back to the bathroom and I was directing them. 'You go this way; you go this way; and you go like that.' And they were, 'I don't know about this.' I begged them and they did it."
She is also trying to convince her mother to get in on the action (separately but equally, of course), says the starlet who is also trying to convince Mom to do some porn scenes.
"I've been teaching my mom about anal," she said. "She's only done it once and it really, really hurt. I told my mom to start training, use a lot of lube. And she's like, 'OK, I will try but if it hurts, I will kill you!'"
Look for her first on-camera anal experience at http://holed.com/video/indecent-proposal.
Check out Alyssa's ADT interview at http://interviews.adultdvdtalk.com/alyssa-cole/.
Follow her on Twitter and Instagram (@alyssaxcole) and Snapchat (AlyssaColeXXX). She can be booked through OC Modeling at http://ocmodeling.com/model/alyssa-cole/.  For everything Alyssa Cole go to http://risingstarpr.com/clients/alyssa-cole/