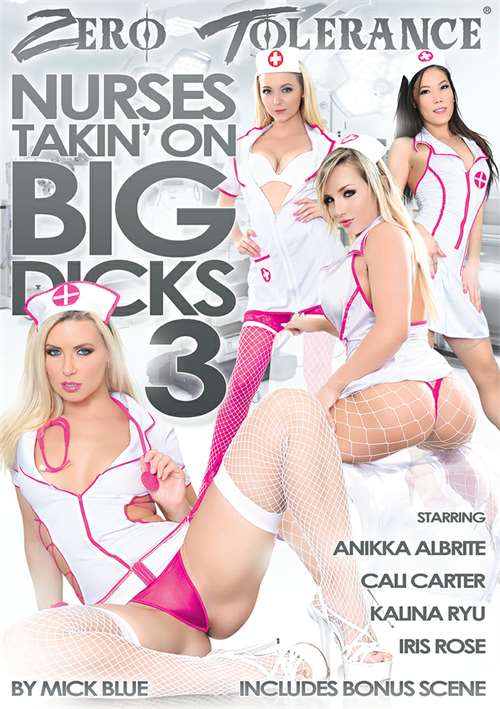 Mick Blue Captures Hospital Horniness in New Zero Tolerance Movie
VENICE, CA – There's no arguing that magical moments happen in porn movies when the two best performers of their generation cum together. Nurses Takin' on Big Dicks 3 from Zero Tolerance is one of those rare and wonderful occasions.
The movie is directed by Anikka's doting hubby, Mick Blue. Using the extraordinary sexual chemistry they naturally share, the award-winning pair effortlessly sync-up in their pursuit of pleasure, utilizing their skills to illicit one earth-shattering orgasm after another from their partner in a frenetic frenzy that's become their trademark.
"Any day I get to work with Mick is a wonderful day," Anikka said. "Obviously we have great chemistry and love to have sex, so it's really a can't-lose situation! Having the opportunity to roleplay makes everything more fun. I love playing a naughty nurse!"
Another movie that stars Anikka and Mick is Babysitting the Baumgartners (Adam & Eve), which just hit #1 on the HotMovies and GameLink charts. And of course there is Mick Loves Anikka (BAM Visions), which is widely considered to be the greatest porno love story of all-time.
Other recent DVDs include Wet & Wild Asses (Brazzers), which sports a solo Anikka box cover, Real Gentlemen Prefer Blondes (3rd Degree) and Anikka Albrite & Her Girlfriends (Girlfriends Films).
Anikka has several nominations for the 24th annual NightMoves Awards: Best Female Performer, Best Body and co-starred in Anikka and Carter (Adam & Eve), which is a favorite in the Best All Girl Release category. She won the Best Female Performer trophy at the 2015 NightMoves Awards.
The NightMoves Awards will be held at the Tampa Gold Club this October. For more information go to www.nightmovesonline.com.
Get more information and watch the trailer for Mick Loves Anikka http://www.evilangelvideo.com/video/5409/Mick-Loves-Anikka/. The SFW trailer can be viewed at https://youtu.be/bobMH4X9Ee0.
Check out her Fleshlight at http://www.fleshlight.com/fleshlight-girls/anikka-albrite/. Follow Anikka on Twitter (@AnikkaAlbrite). To book her contact Spiegler Girls at http:// www.spieglergirls.com/html/anikka.html. For everything Anikka go to http://risingstarpr.com/clients/anikka-albrite/.